yuBuddy – mobile HealthTrainer
yubuddy – mobile health trainer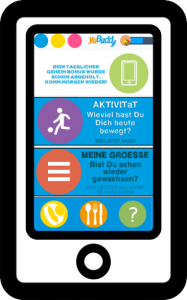 Obesity in childhood is a worldwide problem.
yuBuddy provides a new mobile, digital
therapy via your smartphone. the goal is to
achieve a sustainable change of behaviour and
improvement for a better quality of life.
Get your information
Kids & Youngsters

tame
your piggyDog

Live your life lighter,
move more
eat better
feel better!

Parents

we support you

Professional Training-Programs build the foundation to our game

Trainer & Physicians

We help to get your therapy sustainable

Partner for Cooperation wanted.
Achive better patient compliance and adherence!
Team
Finn Jacobsen

Informatics

Software Architect

Dr med S. Schupfner

Pediatrician

Fabian Jäger

Informatics

iOS Support
Konrad Zinke

Mentor Economy

Psychcologist S. Gassner

Childrens Hospital Wilhelmstift, Hamburg

Prof. T. Martinetz

Mentor Neuroinformatics University of Luebeck
Gunnar Krieger

Illustration

A. Hörmann

Interfacedesign

T. Mahlke

Clickdummy
Statements
I play with my smartphone every day. Awesome, that with yuBuddy there will be a healthcoach, sending me out to play. The wearable lets me know when the daychallenge is almost completed. That helps me sticking to it. It still works, even I don't have my smartphone with me.
Nicolas, 13 years old
It hurt's, when I see, my daughter ist still struggeling after her hospital-therapy not to fall back into old habits. The App with the funny characters and motivating calls to action should have been invented much earlier.
Heike, 36 years old, mother of two kids
Obesity is an widely spread problem with high medical impact needed and low reimbursement. In my Praxis I treat many young patients, they often feel missunderstood and left alone. A real buddy, who motivates and not critizises, is – even virtuel – an immense support for the cildren. We as peditricians are highly interested, to improve the effort for a better health attitude and therefore support the Start-Up yuBuddy. The Summary-Tools are especially useful for us
A. Onur, Pediatrician (MD), Member of the Nationalboard
of German Padiatricians, Germany (BVKJ)
That sounds amazingly thrilling and I see a lot of potential! I wish for the Start-Up yuBuddy, that there will be help and support from all over!
Prof. Dr. Dr. Edith Huland (MD), Pediatrician and Founder of the Immunservice GmbH, Hamburg
Awards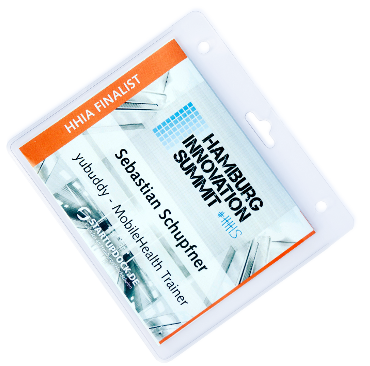 Top-Five Finalists at the
HAMBURG-INNOVATION-AWARDS 2015